Hello you guys! How are you? Me...in much better spirits. So far the light at the end of that once long dark tunnel is looking much brighter! Thank God! Let me tell you...it's been hard with these changes that have taken place in my life...but I'm growing acustomed to the fact that we can't always have things we want but learn to deal with what we have and need! This turn in life has made me grow in many ways needed. I'm still the same crazy Gabby...lol...just more mentally mature!
Anywho...I'm posting this card because I hate missing on my DT assignments. I feel bad and like maybe I shouldn't be in these positions. I know Katie and team understand and what not...but that's just that same old worrisome Gabby! The challenge for this past M4TW was to be inspired by the sun. Well...I love sunsets and the beach...then I just got Dude Fairy and felt the urge to ink him up since I saw an awesome silhouette of a surfer while searching for some inspiration in bed on my iTouch! :D lol I also hadn't used my airbrush can so I said...it's a sign it must be brought to life...lol! So here is my card and inspiration piece! Hope you like!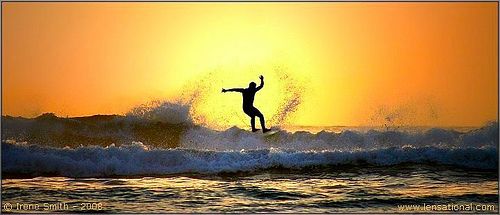 I don't know how to add hyperlinks through this thing so for links you'll have to look at my sidebars...lol...sorry! On THAT note...about the iPod Touch...IT IS AMAZING!!! I honestly didn't know I can do so much on such small apparatus! LOL! I thought my iPhone was the shiznit...it's no difference really...just that I can use it to place calls and take pictures...big whoop! I hope the person I sold it to is having fun with it though. This thing has allowed me to be online...but limited to some points of course. Still I've been Tweeting and on Facebook more than I've been on there before...there is other life outside blogging! :O
K...I'll let you go! It's kinda hard typing on this thing...my chubby fingers need a keyboard...hahahahaha! I have another post going up on Tuesday...so watch for that! I'm just ubber excited about my new found knowledge of the iTouch! Tee hee! Miss ya...love ya!